Highlights
Bulk Add Team Members
Adding team members to your program is quick and easy when you have only a small number of users. But for larger sites with hundreds of users, you need a way to do it in bulk.
The Team interface has been redesigned to include this functionality.

Clicking Add Team Member will now display a form that lists all registered users in the system and allows you to add the whole set of users into your team at once.

Or, if you require to select names, you can put a tick mark next to the usernames and choose a role to be assigned to all of them. Next, review your selections and save the changes. You have now added users and assigned roles to your selected team, all in one go and in record time. You can adjust the role assignments or add/remove users later if required.
The Add Team button, which allows you to create project teams, has been moved to the centre of the page, adjacent to the Add Team Member button. There is no change to the functionality, but access to the button has been made easier.
For more information, see Team Management.
Bulk Copy Custom Field Values
Administrators who need to create a large number of custom fields can now save time configuring them by bulk copying the values. For example, if you have 100 values and labels for a select box custom field in your spreadsheet, instead of transferring them one by one into Amplify, you can now copy the entire range of cells and paste them into a single field in Amplify, which will automatically put all hundred values and labels into hundred separate fields.

This feature will be available while setting up the following field types:
Select
Multi-select
Radio group
Linked select
Traffic light
Once you have defined the name, label, and data set identifier, you can copy the entire range of labels and values for the field from your spreadsheet into Amplify.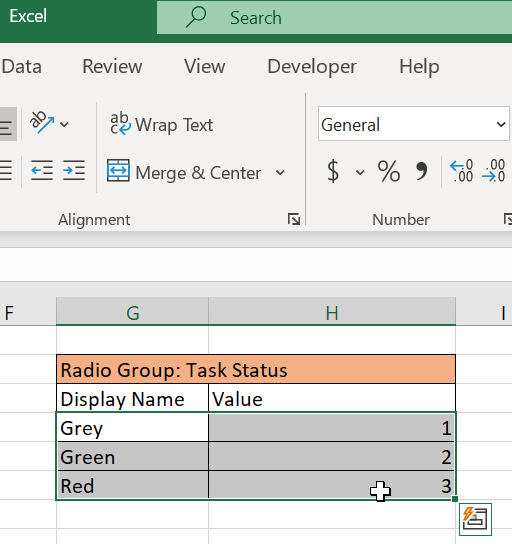 When you paste them all into the text field provided on the interface, Amplify will store them separately as labels and dataset values of your custom field. This way, you can quickly add multiple custom fields in very little time.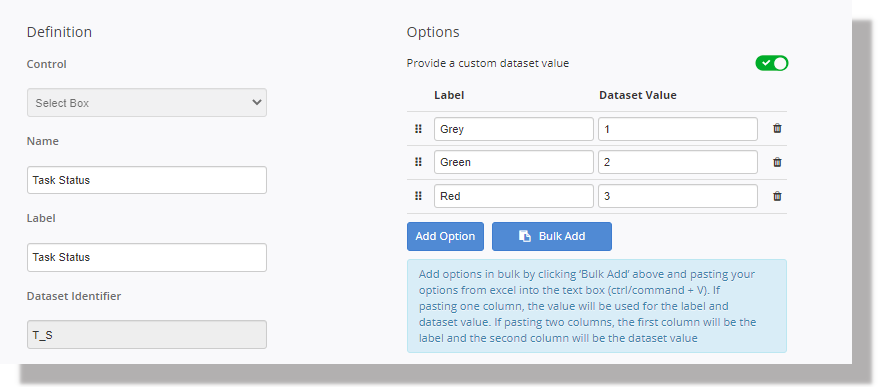 Please note, if you are pasting valued from a single column, each cell value will be used for both label and dataset values.
You can reorder the options after you have added them. The option with the lowest sort order will be set as the default option.
You can utilise the Bulk Add feature to create custom fields globally and within the Program Model locally. In addition, Program administrators can utilise the Bulk Add function to add multiple reporting group options simultaneously.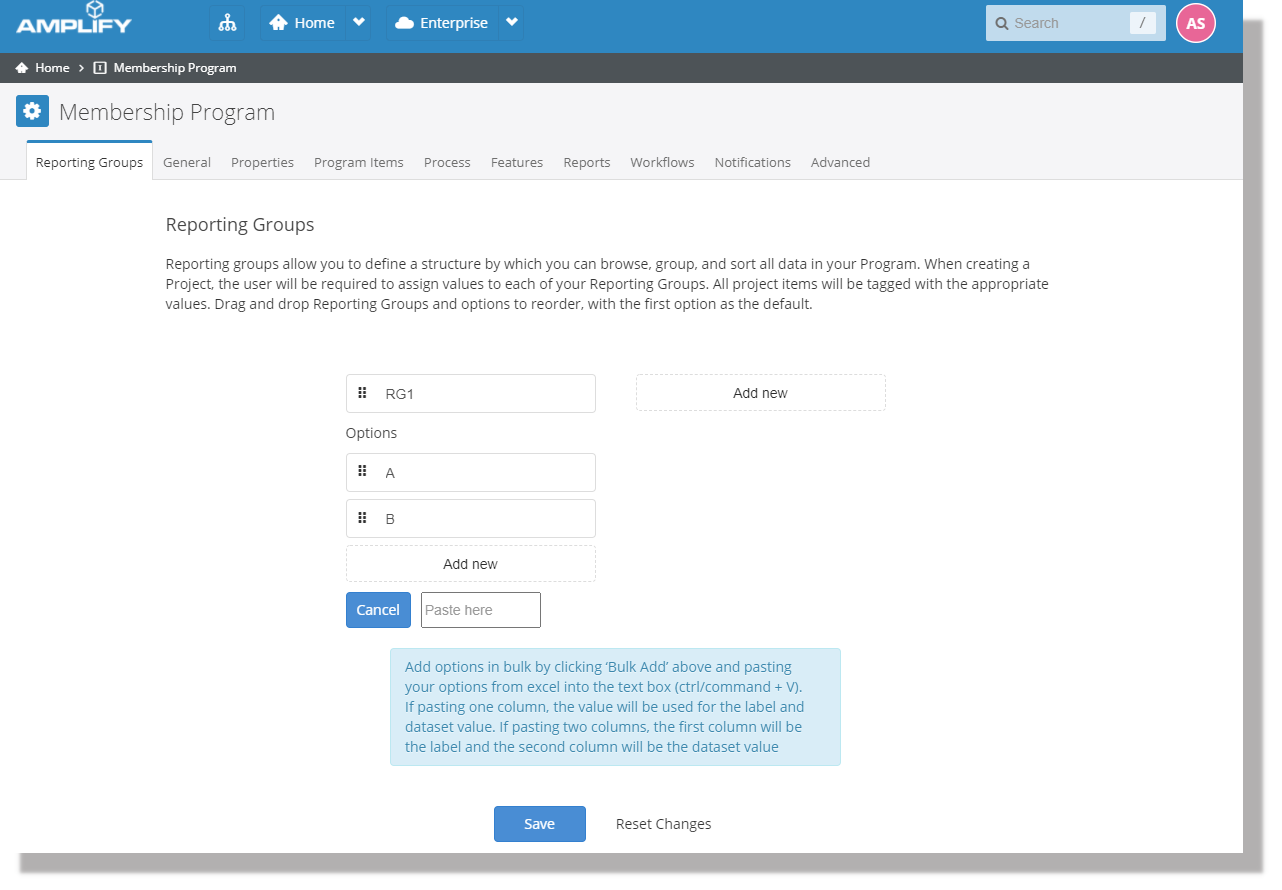 For more information, see:
Specify a Time zone for Your Instance
Administrators can now set the time zone for Amplify. Your timezone setting will affect the timestamps displayed all across Amplify, including the reports and dashboards.
The setting is available in the Administration>Site Settings tab. If this is not configured, Amplify uses UTC as the default time zone.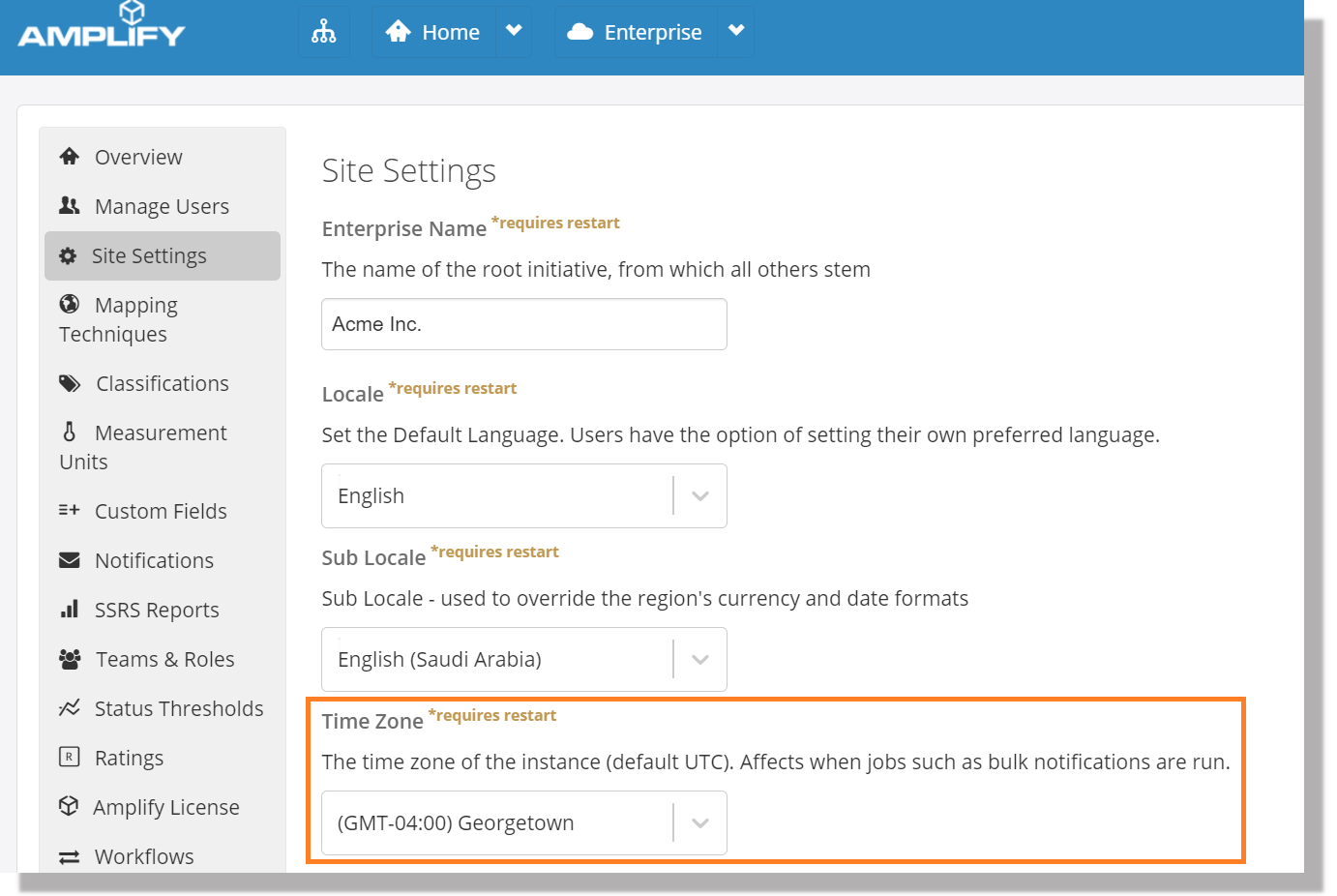 See How to set the time zone for your Amplify instance.
Add/Update Confirmation Prompt for Baselines
Clicking on Add/Update Baseline option from the hamburger menu will now display a confirmation message as below: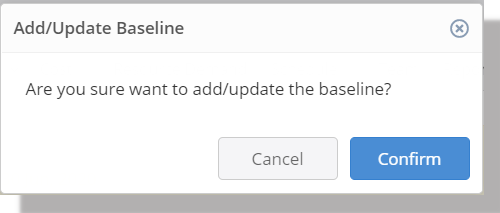 Issues Resolved
| | |
| --- | --- |
| Service Request #/ Internal Ticket ID | Description |
| SR #867 | Special characters displayed at the end of cell contents in the initiative table view. |
| SR #872 | Advance to stage feature shows archived initiatives for selection. |
| SR #913 | Archived programs and projects appeared in the breadcrumb drop-down list. |
| SR #923 | While enabling permission to update reports, update permissions for a few other features also gets enabled. |
| SR #934 | Number precision is not correct in the benefit ledger view when the financial unit's precision is set to zero. |
| SR #954 | The schedule failed to load due to custom fields being sorted by NULL values. |
| AMP-1434 | When Amplify times out your session, you are redirected to the login page, displaying two error messages. |
| AMP -1469 | Moving initiatives breaks shared team path records. |
| AMP-1496 | Financial year filters display the wrong years on the Impacts ledger. |