The Administration menu is only accessible by users with 'Admin' privileges.
The Administrator Overview provides an account holder with various stats and configurations for the Amplify account, including Users, Initiatives, Benefits, and Measures.
The count of all core active objects in your Amplify instance is listed in the Stats section. This includes the number of registered users and the total count of all items created under classification types 'Initiative', 'Benefits' and 'Measures'.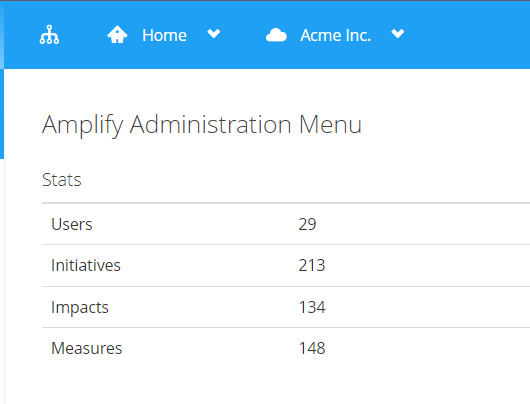 You can gain a quick understanding of the following core configurations in the Configuration section:
Licence Information - Shows the name of the company, the maximum number of users allowed, and the license expiry date
Units - Shows the names of measurement units defined in Amplify
Team Member Roles - Lists the names of roles defined in Amplify
Currency Rollup - Shows the currency formatting with examples. The thousand separators used here are derived from your selected locale.
Version - Shows the current version of Amplify in use
From this Overview section you can also:
Recalculate Statistics within Amplify if you are experiencing values that are not expected. This will recalculate the stats for all benefits and initiatives in the system.
Enable NPV Stats Calculation. This refers to the Net Present Value View in the Initiative dashboard (when enabled through settings)
Allow Benefit Classifications to be modified.

Toggle the display of the classification selector on the benefit edit form, this setting is to aide the transition to benefit templates.