Highlights
Export Custom Dashboards
Get ready to share your dashboard seamlessly with the team! With the introduction of Power BI Export feature in release 20.5, you will be able to export all your custom dashboards as PDF or PowerPoint presentations. This will enable the automated production of PowerPoint-based reporting workflows, directly from Amplify.
With the help of the Export feature, you can:
Easily download multiple tabs from your dashboard to a single file and share with your team as PDF or PowerPoint.
View all contents of an entire tab in a single PDF page or PowerPoint slide.
The following limitations apply to Power BI exports: The size of the exported file should not exceed 250MB, and the maximum number of pages allowed in an exported file is 30.
How it works
When you have dashboards that are to be changed to a PDF or a PowerPoint presentation, a configuration setting can be enabled that will allow you to identify which dashboards should be made exportable. Read more here.
A print button will be displayed on these dashboards when they are accessed from within the initiative.
The print button will allow you to select the format of the exported file.
Once you specify the format, the download process begins.
The download process may take a few seconds to complete. Please wait while your file is created and becomes available for download. The number of tabs on the dashboard will have a direct impact on the time it takes to print/export.
As soon as the download is complete, you will see the Download button, clicking on which the file will be automatically downloaded to your computer.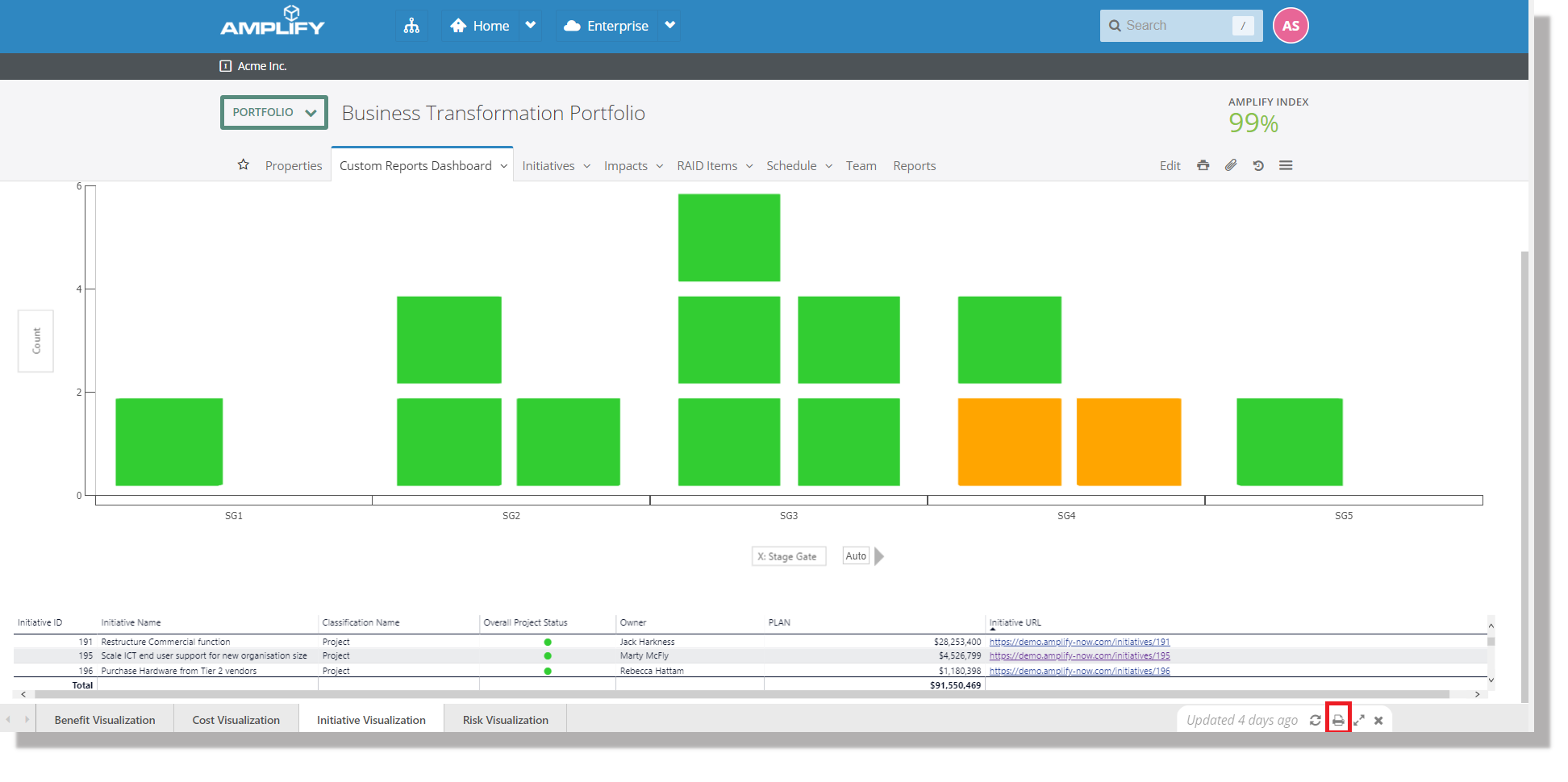 Issues Resolved
| | |
| --- | --- |
| Issue key | Summary |
| AMP-124 | The items in the Cost Categories drop-down list on the New Cost form will be alphabetically sorted by default. |
| AMP-92 | Format of the financial year, when used for grouping rows on the Reporting Dashboard displayed incorrectly. We have fixed this. |
| AMP-89 | The classification button on the Initiative dashboard, when clicked will list sibling classifications in alphabetical order, as suggested by one of our customers. |
| AMP-52 | The data entry fields on the Adjust data tab will be grouped by financial year. |