Highlights
Custom Multi-select User Field
Due to multiple requests for increased oversight on user's involved in projects, a new custom field has been implemented to offer additional functionality. The user field is a useful option for tracking participation for an item. As a manager you can recall who is involved with which items, and for other users they can identify the items they should be involved with.
The user field can be created in the same manner as other custom fields.
Navigate to the program or initiative that requires the field and click on Configuration.
From the configuration menu, select Properties.
On the properties page, click on New Field.
From the first drop down box labelled Control, select the item Amplify User Multi-Select.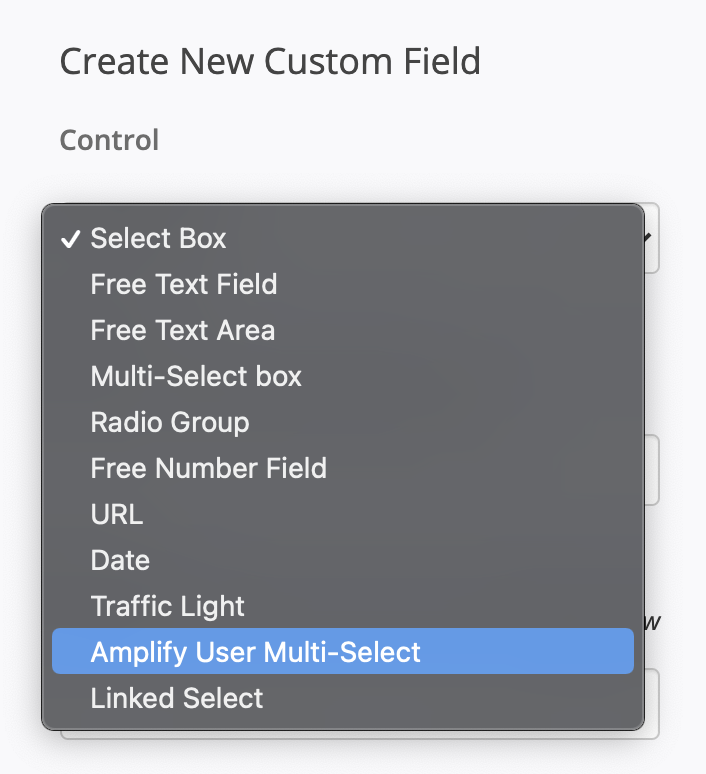 Note that creating the user field does not allow options to add custom data. The data is generated automatically from the user list.
As the user field is multi-select, when placed in a form you can add multiple choices to the field. To remove a choice, just click the 'x' in front of it. You can also click inside the field and begin typing to filter the available options.
Issues resolved
| | |
| --- | --- |
| Service Request #/ Internal Ticket ID | Description |
| SR # - 1139 | Initiative dates would not be created properly on the schedule. |
| SR # - 1167 | Invalid character notifications did not contain enough detail. |
| SR # - 1198 | Impact tables would display incorrect financial year dates. |
| SR # - 1199 | A notification would incorrectly appear on archived benefits. |
| SR # - 1218 | Display and loading issues would occur in the calendar field for tasks. |
| SR # - 1248 | Ledger values were not saving correctly in some instances. |