Highlights
New Amplify Experience
After months of gathering feedback, planning, designing, and developing, the new Amplify experience is finally here!
You can read the full write up on the biggest changes here, but here are some highlights:
Redesigned navigation that can be minimised and expanded
Design update to all interface elements
Adjusted layouts with better use of space
The new experience is an opt-in feature that can be turned on from your account settings:
Go to My Account
Click on New Amplify Experience to expand the option
Click on the Enable New Amplify Experience button


Click Confirm on the pop up window to begin installing the new experience.
We encourage all users to try out the new experience and provide their feedback. The new experience will keep undergoing refinement as we receive this feedback. In the coming months, all instances will eventually be transitioned to the new experience utilising your comments, questions, and issues.
Costs Register
As part of the new experience, a new Costs Register has been introduced to compliment the new functionality. This new register comes with a card, table, and ledger view and behaves similarly to the benefits or impacts register.
The cost register allows you to get more data on your projects with more ease by providing more analytic flexibility and oversight for your costs.
Visit the guide to learn more.
New Colour Picker
Amplify now includes an updated colour picker for the various places in the software requiring colour choices (like reporting groups) but not including elements like graphs.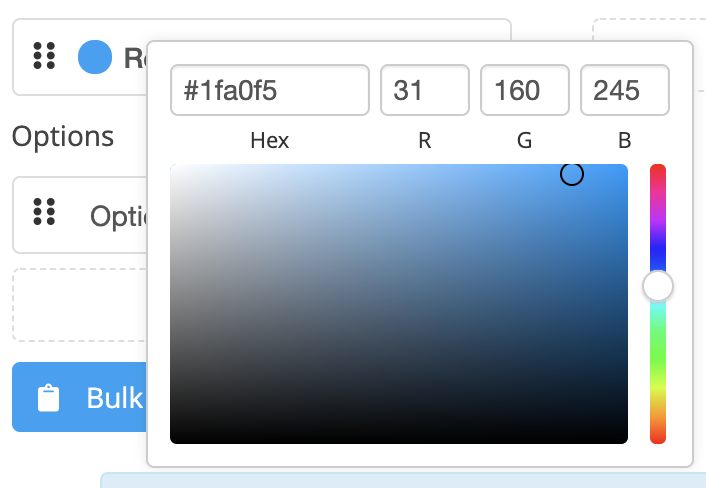 The colour picker supports Hex values, RGB values, and manual selection in order to provide more flexibility when repeating colours or adhering to an established branding guide for your company.
Feedback Surveys
With the release of the new Amplify experience, Amplify wants to hear from all users about their experiences with the software. Occasionally, you may see a row of smiley faces appear on the screen. Just click on the icon that best represents your current mood.

To turn surveys on or off, as an administrator:
Go to Administration.
Navigate to Site Settings.
Scroll down until you see Surveys.
Toggle the button to disable or enable surveys.

The more feedback we receive, the better we can make Amplify for you!
Issues resolved
| | |
| --- | --- |
| Service Request #/ Internal Ticket ID | Description |
| SR # - 77 | Decimal place settings were not being used in some places |
| SR # - 992 | Favourite items were not affected by permission changes |
| SR # - 1166 | Baselines would be available on graphs when disabled |
| SR # - 1178 | Allowed report exports to inherit row sorting |
| SR # - 1197 | The reporting dashboard would sometimes display months in the wrong order |
| SR # - 1258 | Specific reporting group configurations prevented the Gantt from loading |
| SR # - 1265 | Notifications would be received when assigning objects to oneself |
| SR # - 1266 | Allowed unit names to be available in benefit cost series |
| SR # - 1290 | Making changes to a RAID table would disable visuals until refresh |
| SR # - 1335 | Custom field data would not be removed when updating via Excel if removed in Excel |