When you click on the User Views tab in the Administration page, you will see a table that lists all available views in the system. The User Views tab allows you to create a new table or personalised dashboard views, using any desired setup from the functions below. You can create or customise a view for:
Initiatives table
Benefits table
RAIDs table
Tasks table
Cost ledger
Benefits ledger
Investment Dashboard
Reporting Dashboard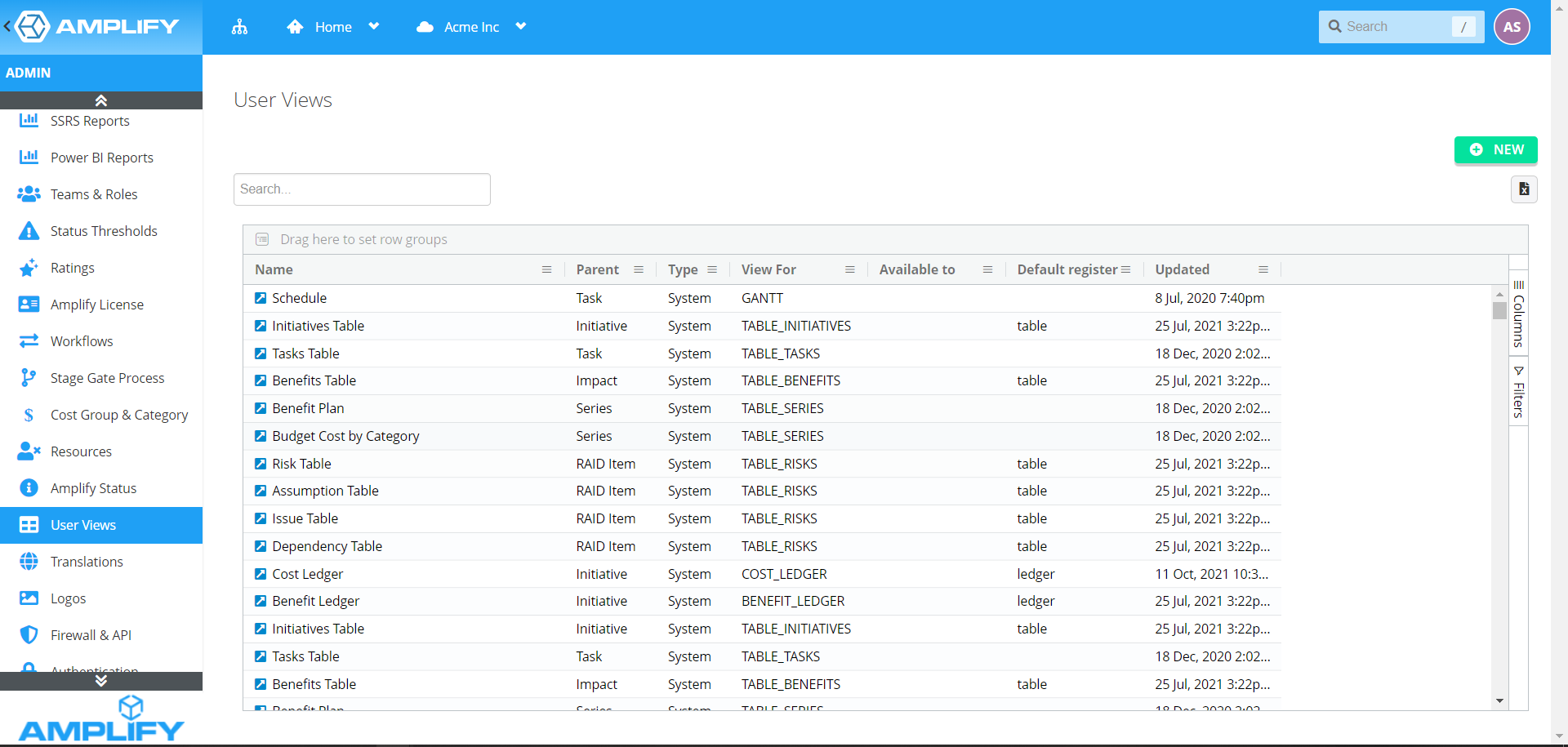 The table shows all currently available views. You can see what type of data the view is built on in the Parent column. The Type column will tell you if a view is a System view or a User view. System views are shared views and are available to all users, whereas User views are only available to the user who created the view. When an end-user saves a view from their dashboard or tables, it will be listed as User views here. As an administrator, you can, however, convert a User view to a System view.
The View_For column shows which table or dashboard the view is created for.
This page also allows you to:
To create a new System view:
Click on the New button.

Select which object the view is built on, from the Parent drop-down list. The available options are Initiative, Benefit, Risk, Tasks and Series. For creating views for investment dashboard, initiative tables, cost and benefit ledger, you can set this value as Initiative.


If you are creating a reporting dashboard view, select Series in this field.

Select which table or dashboard the view will be used, from the View For drop-down list.
Give a name for the view.
Add the script in the Config text area. You can copy the script from an inbuilt system view here and make the required changes.
Click Save when complete.
The newly created view will be available to all users in the system.
To modify view settings:
Locate the view that you want to modify in the table.
Click on the button to access the details page.
Click on the Edit button to open the view settings in edit mode. Use the Delete button to delete the view.
Make the necessary changes and click on the Save button.
Within this setting you can configure which columns to appear/not appear:
Amplify ID
Name
Start Date
End Date
Variance
Variance Type
Progress
Reporting Milestone
Ownership
Creation Date
Update Date
Actions
To change a user view into a shared System view:
Locate the view.
Click on the button in the row to access the details page.
Click on the Share button.
The view will now be available to all users in the system. The table views setting allows for exportation to Microsoft Excel (xlsx).