Highlights
Kanban
We're elated to announce that Kanban is being released to all instances from release 22.8. Kanban has been an opt-in experience for some months, and now, after some feedback and adjustments, it's available to everyone.
For our newer users, Kanban is a modern tool used to manage project tasks using a board. The board is divided into columns, representing stages of progress.
Kanban tasks can contain different attributes, like due by dates and tags, and can be freely moved around the board. Kanban also integrates with the task table and schedule displaying tasks configured to do so.
To learn how to activate and use Kanban, read our previous article here.
Notifications
Notifications have received some attention this month in the form of a Notifications tool. Your Measurements and Workflows notifications can now be accessed from anywhere in the software!
You'll notice that there is now a bell icon to the right of your avatar in the Amplify header. The bell icon will display a green badge when you have notifications awaiting your attention.
| | | |
| --- | --- | --- |
| No Notifications | | Active Notifications |
| | | |
Click on this icon to open the Notifications sidesheet, an overlay to your current page that displays all of your Measurement and Workflow notifications. These notifications are the same as you would find on the personal dashboard and Measurement pages.
You can also click on these notifications to action them without leaving your current page.
Multiple SSO/SAML Providers
We've made a small, but important change to the way SSO logins work this release. Amplify has always allowed multiple SAML providers connected to the system, however only one could be used as an option to login at a time.
WIth this latest update, multiple SSO options can be enabled for the login screen. This means there's no longer a need to change your configuration every time you need to present a different SAML provider.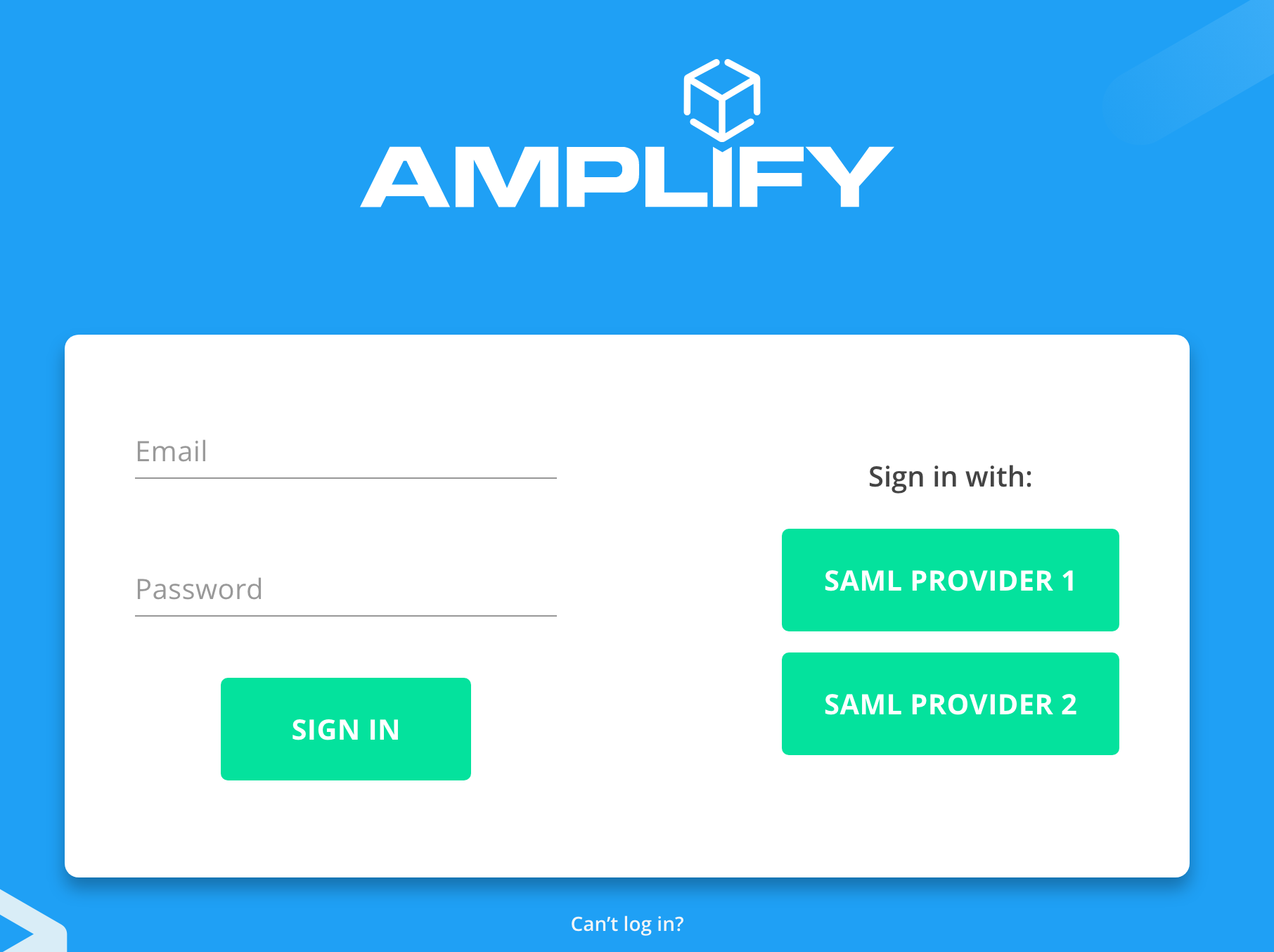 Issues resolved
| | |
| --- | --- |
| Service Request #/ Internal Ticket ID | Description |
| SR # - 819, 943 & 1684 | The datepicker in the schedule would not display correctly |
| SR # - 1351 & 1762 | The performance dashboard would not load in some situations |
| SR # - 1652 | Some users could not edit shared teams |
| SR # - 1720 | Deleting a user could incorrectly reassign another user |
| SR # - 1777 | The start date would not be displayed in the Impact ledger in some cases |
| SR # - 1819 & 1953 | Having multiple SAML clients could cause incorrect redirections |
| SR # - 1846 | The month option in the datepicker would not work sometimes |
| SR # - 1862 | Costs would not be counted in the configuration overview |
| SR # - 1912 | A disabled button would not display as disabled |
| SR # - 1917 | Deleting a user would not redirect properly |
| SR # - 1944 | The date range selector would not function properly in some cases |
| SR # - 1945 | Impact dates would not recalculate correctly in rare instances |
| SR # - 1976 | Plan dates would not recaclulate correctly in rare instances |
| SR # - 2004 | Errors occur when saving schedule in rare cases |
| SR # - 2008 | Some disabled items would still appear on dashboards |
| SR # - 2040 | Baseline options remained present in some places after disabling |
| SR # - 2060 | Some custom field edits would return an error |
| SR # - 2066 | Classification colour would not be visible in some instances |
| SR # - 2071 | Some disabled items would still appear in the menu |