This article refers to the Stage Gate Process from release 23.2 onwards.
The Stage Gate Process can be used in two places (depending on your initiative configuration):
Performance Dashboard
Project Brief
The Stage Gate Process looks and functions the same way in both places.
The widget consists of two sections; the progress graph at the top, and the stage information below.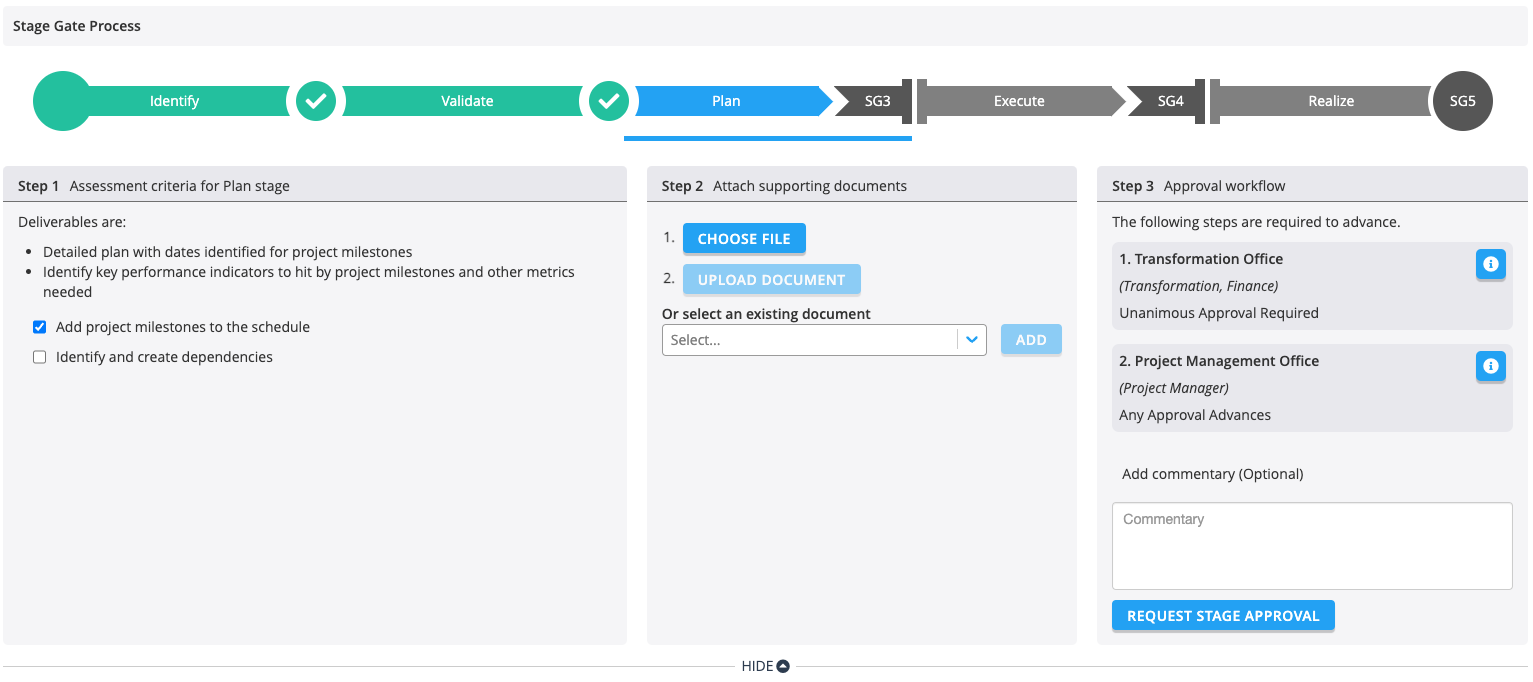 The Progress Graph
This graph represents your entire stage gate process and can be used to monitor the progress at a high level as well as navigate around your stages.
Each section of the graph is split into stage and gate. The blue stage is your currently active stage. You can click on other stages to view them. The currently viewed stage is underlined with a blue line.
The gate will change depending on the approval workflow.
| | |
| --- | --- |
| Black | This gate has not yet been reached. |
| Orange | An approval request has been made for this gate. |
| Green | This gate has been approved. |
| Red | This gate has been rejected. |
The Stage Information
If this section is not visible, use the Show button at the bottom of the widget to expand it.
This section is divided into three columns, representing the typical approval process. They are:
Assessment Criteria
Supporting Documents
Approval Workflow
Assessment Criteria
This section displays the description of the stage as well as any added checklist items. This section is useful for providing the requirements and expectations for the stage gate to receive approval.
Supporting Documents
Here, a user may attach documents to the stage. Read more about supporting documents here.
If supporting documents have been disabled for the stage, the user will see a message to that effect.
Approval Workflow
This section is used to begin the approval process and attempt to progress to the next stage. Clicking on Request Stage Approval will place the stage gate process on hold until the approval workflow has been completed.
Reversing the Stage Gate Process
At any point, a user with the appropriate permission may move the stage gate process back to a previous stage, effectively resetting it. To access this option, navigate to the initiative/project properties.

Under the default properties is the option Move [Initiative] to Stage.
Select a stage from the list of options to move back to.
Click Move to confirm the action
Moving an initiative stage will completely reset any stage progress made on the intermediate stages, including:
Approvals granted
Documents attached
Checklist item activity
Associated stage baselines
This action is not destructive and will not result in the loss of data for your initiative.