This article refers to the Stage Gate Process from release 23.2 onwards.
For initiatives to progress in Amplify they must pass through the gate at the end of each stage. The gates can be configured in myriad ways with approval workflows. These workflows determine who can approve a request, how these requests are approved, and how many steps are required to approve. To find out more about workflows, read our article here.
The workflow for a stage can be seen on the stage gate process widget in the third column Approval workflow.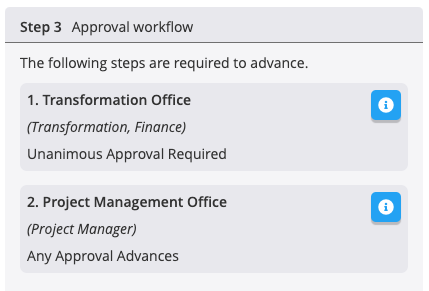 The approval workflow describes the:
Step number (if there are more than one)
Name of the approval step
Team roles eligible to approve the step
Criteria to approve the step
These details will vary depending on your workflow configuration.
To see more details about an approval step, click on the 'information' button on the step. This will open a window with additional actions.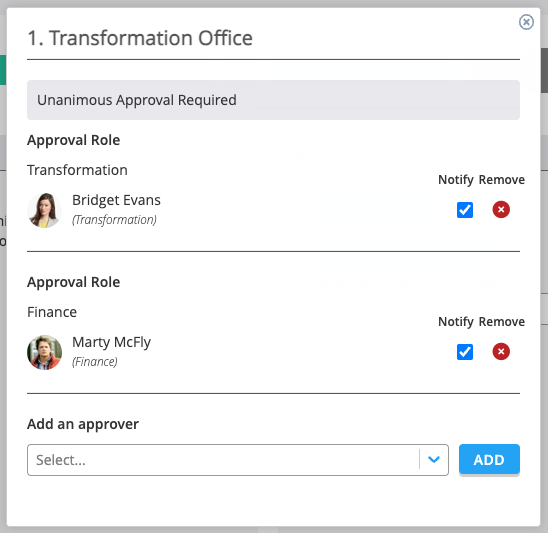 The information window reiterates the conditions for the approval step. Below this, all of the eligible approvers in the team are listed under their relevant role. Depending on your workflow configuration and permissions, these team members can be removed and additional ones can be added.
If there are no team members eligible to approve the step, an approval will not be able to be requested. Either speak to your administrator about assigning team members to the roles, or add approvers if you have permission. A warning icon will appear on steps that cannot be approved.

Approvals Process in Action
After a stage approval request has been made, the Approval workflow section can be used to monitor and review the progress of the request.
An icon will appear on each step as the workflow progresses, reflecting its current state.

| | | |
| --- | --- | --- |
| | Pending | This is the current step and has not had all of its approval criteria met yet. |
| | Approved | All of this step's approval criteria has been met and approved. |
| | Rejected | The stage was rejected at this step. |
For gates that are pending, approved, or rejected, clicking on the information button will give different information.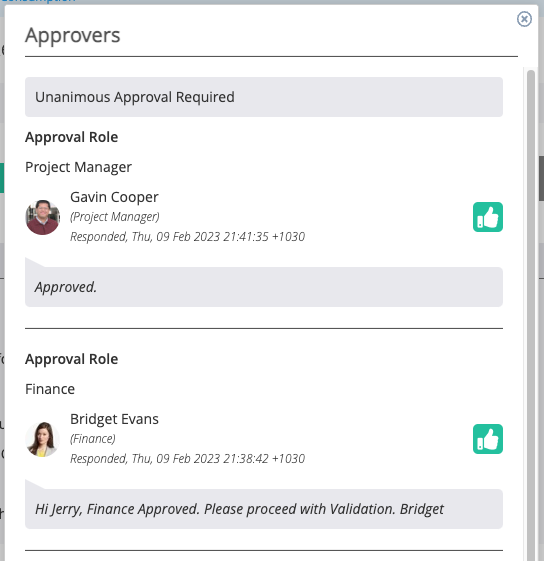 The window will now show:
Who has reacted to the approval request, either by approving or rejecting
Who has yet to, or did not, act
For those who have reacted, a timestamp of their action and,
Any comments made when reacting
The Amplify approvals process ensures that all initiatives are beholden to progress requirements and are completely auditable and governed along the way.