This article refers to the Stage Gate Process from release 23.2 onwards.
This feature allows users to add documents to each stage and have them available for review during the approvals process.
Enabling Supporting Documents
Supporting documents need to be enabled for each stage that they are required. Navigate to the stage gate configuration for the relevant initiative or project.
In the third column of the configuration window, click on the Enable supporting documents toggle to enable the feature.
NB: This option will be disabled if documents are not enabled for the initiative.

Using Supporting Documents
Once you have enabled supporting documents for a stage, you will see in the stage gate process widget some options in the second column Attach supporting documents.
There are two ways a user can attach documents to a stage:
Upload a new document
Select from existing documents
To upload a new document:
Click on Choose File
A file explorer window will open, locate your document and click ok
The name of the file will appear next to the button
Click on Upload Document
The document will be added the Supporting documents list as well as added to the initiative's document page.
NB: Files uploaded this way will automatically use the file name as the document name. Go to the documents page if you want to rename the document.
To select an existing document:
Click on the dropdown option Or select an existing document
Choose an option from the documents that have already been uploaded to the initiative
Click Add
The document will be added the Supporting documents list
To remove a document from the Supporting documents list, click on the red 'trash' icon next to it.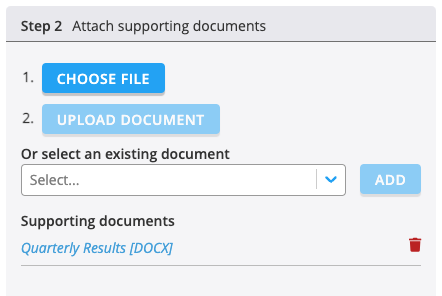 Viewing Supporting Documents
Once a stage is pending approval, or already approved, the attachment options will no longer be available. In their stead will be a list of attached documents.
Depending on document permissions, users can click on these document names to download or view them.